May 26, 2010 – 1:37 pm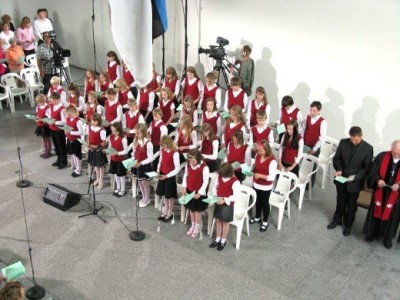 On Sunday, May 23rd, 2010 the Annual Ecumenical Pentecost Service was broadcast on Estonian National Television. This year's service was held at Saint Stephen the Martyr Charismatic Episcopal Church at Harkujärve, near Tallinn, the capital city of the Republic of Estonia.
The service was led by The Very Reverend Dr Heigo Ritsbek, The Vicar General of The Charismatic Episcopal Church of Estonia and the Rector of St Stephen the Martyr CEC. Father Ritsbek also preached at the service.
The Right Reverend Einar Soone, the President of The Council of Churches in Estonia and a bishop of The Estonian Evangelical Lutheran Church, gave the greeting and the benediction. Leaders and laypeople from several other denominations also participated in the service. Those represented were the Estonian Evangelical Lutheran Church, the Estonian Orthodox Church, the Roman Catholic Church in Estonia, St Gregory Parish in Tallinn of the Armenian Apostolic Church, the Baptist Union of Estonian, the Estonian Christian Pentecostal Church, the United Methodist Church in Estonia, The Adventist Union of Estonia and The Charismatic Episcopal Church of Estonia.
The service was carried on Estonian National Television Channel One with a viewing audience of over 24,000 people. As there are less than 1 million Estonians in Estonia, it reached a large percentage of the homes in the country